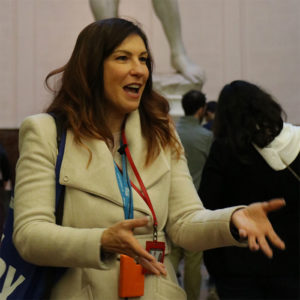 As far as back in 1984, when I had to choose my future high school, my idea was clear: "I do want to study languages and work in tourism!". The choice was the right one and I have been working in this industry since 1989!
Experience and passion are not enough, willpower led me to keep studying and updating myself constantly. In 2003 I passed the exam to become technical tourism director a necessary qualification to run a legal travel agency. Just after I managed to get the tour leader license.
I did a lot, however I felt I could achieve more, something was missing, maybe a degree!
Armed with goodwill, courage and a touch of madness I enrolled at the University of touristic Sciences, at the Faculty of Economics and Commerce in Florence and I graduated cum laude.
In 2018 after one year of school, I also passed another stiff exam and I became a full-fledged tour guide, qualifying as tour guide in Italian, English, French and German.
Am I going to stop now? Who knows… as an old African saying goes " You start getting old at the time when you stop learning", but one thing's for sure, I love being with people from all nationalities and cultures and above all I love my beautiful city, Florence.