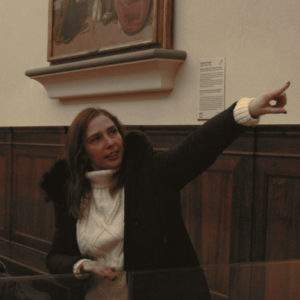 Since I was a child I travelled a lot and my family moved several times for business purposes. This led me to discover so many different places and love their history and artwork. At the age of 20 I came to Florence, but I could not stop here.
I've always enjoyed to lead my relatives and friends around the city and when I was 24 I found out a new approach to the study and the discover of history called edutainment – education and entertainment.
It fascinated to me know that the information we received changes faster into memories when we have a good time or we are touched.
So, after several paths, I decided to turn my passion into my job. I started working together to an association that organizes guided tours for children and afterwards together to a second association that creates historical and cultural treasure hunts in some Italian cities. Furthermore I also started writing treasure hunts for those cities I personally visited during my life.
And finally, to complete my path, I decided to be guide in order to show visitors all the places I love, making them have fun and explain the curiosity and the reasons why Florence has to be considered as the cradle of the Renaissance and an artistic and historical capital, a fully-fledged open air museum where every single corner hides its own story.